Our experience will enhance your experience!
West Cork
The Best Corner of Ireland
I have been exceedingly negligent in not providing more content about the part of Ireland that we lived in for nearly seven years, West Cork. Perhaps now I can redeeem myself with this video. For me it brings back countless wonderful memories. For you it can be foreshadowing of the most memorable tour of Ireland. West Cork has the most varied scenery in the smallest area of Ireland.
---
When in Greece I often said that anyone who visits Greece and doesn't see the Parthenon is committing a crime against humanity. In Ireland I say that anyone who doesn't tour West Cork has missed the best part of Ireland. Look at these two photo albums and you will say the same. West Cork Part One West Cork Part Two
These are from the good folks at Roaringwater Journal. For an insider's guide to history and character of West Cork I recommend you subscribe to their blog. They are very diligent at posting regularly. :)
Ballydehob
For me the highlight of West Cork is Ballydehob and many consider it the best little village in Ireland. In an attempt to convey the special nature of this unique corner of Irish hospitality some fans put together the most extensive virtual tour of any village in Ireland, if not the world. See for yourself how over 3,000 photos were combined to form 150 "photospheres" including audio interviews. Find it on the offical Ballydehob site HERE
This photo is our shop when we lived and worked in the village between 1996 to 2,000.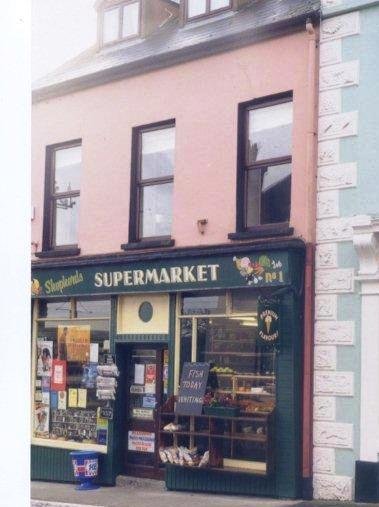 To read a few short anecdotes about our life as shopkeepers in a small West Cork village start at our Expat page.
And see some beautiful Christmas photos taken years after our departure and on the smae page a village street from about 1890.
Ballydehob resident, Tom Vaughn, was a pioneer in drone photography. See his Facebook page for many great examples. This is my favourite . . .
Know before you go. Read all about it. Books
To Search elsewhere please use this Google Search Bar
Custom Search
Top